Genuinely Flexible Working
We believe that work should adapt to our home lives, not the other way around, and we provide a fully flexible work environment because one of our values is that We Put People First.
We have an office in London that we use as a base of operations, but use of that has always been optional. Most of the team work remotely, with colleagues in Dorset, Dunfermline, and any number of places in between. Some of our folks have worked away from their usual home for some of the year, perhaps to visit family in another country - that's fine with us, so long as you remain legally resident in your usual home country, your connectivity is solid enough to work, and your obligations to our customers are met.
We're also flexible on working hours. Some colleagues work part time, others full time. Everyone gets to choose when during the week (and during the day) they work their hours, and we take this into account when we schedule client work. We find this arrangement works particularly well for our colleagues who are parents or other caregivers, as it allows them to plan their work day around those other responsibilities.
If you're joining us as a consultant, we can employ you in the UK or one of a selection of other countries. Regardless of location, your flexible working hours will align around customers in the London timezone.
Team Working
Another of our values is that We Work Best as a Team.
We divide our consultancy organisation into delivery teams. Each team has up to 10 people, including a team lead and a project manager, and as we start new projects, those are assigned to a team to deliver. Most projects have two or three people working on them at a time, and we value collaborative working models such as pairing. On occasion you may find yourself working solo with a particular client for a short time, but you'll always have help and support from your team.
Each team has their own standups, and retrospectives, and you'll have a 1:1 relationship with one of the senior consultants in your team. There's also plenty of opportunity to get to know the rest of The Scale Factory.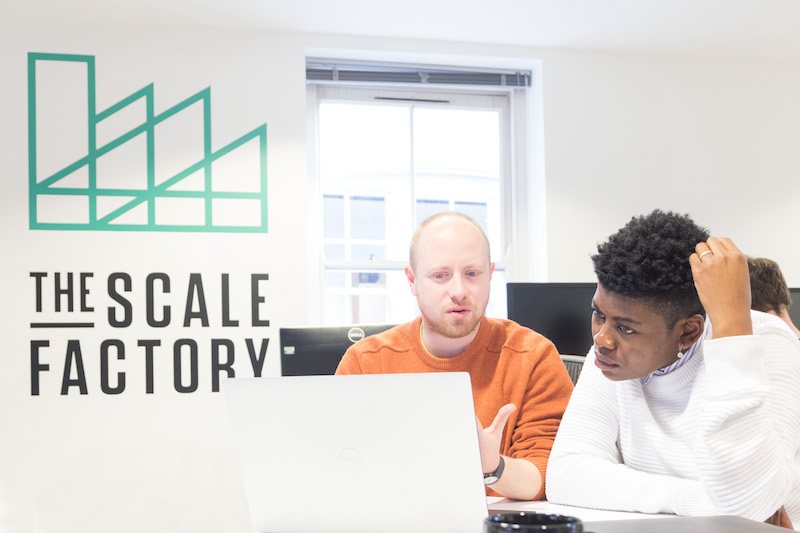 Socials and Co-Working
We run a two-day all-hands gathering every quarter focused on continuous improvement. Day one is for team-wide retrospectives and Open Space style discussions, followed by a team social event in the evening. The second day is usually used for internal projects, and skill sharing, across teams. During the pandemic, this all takes place online, but once that's cleared up we'll be doing these in person again.
Outside of the pandemic, we run optional fortnightly co-working days. In the UK, these alternate between London and Manchester. These are an opportunity to work together in person, and usually includes some low key socialising too.
We make opportunities for togetherness throughout the week too - we run a Zoom "Happy Hour" every Friday afternoon, and a fortnightly morning "Breakfast Club" social. We also use a Slack app called Donut to randomly pair people who've opted in for a casual chat every couple of weeks, which is a great way to get to know new colleagues.
All of our social plans are optional, we'll never force you into coming, but we do try to make plans that are as inclusive as possible. To reassure those with more introverted tendencies, a lot of the existing team lean that way too, and as a result we're much more likely to end up playing board games together in the office than putting drinks away in a noisy bar.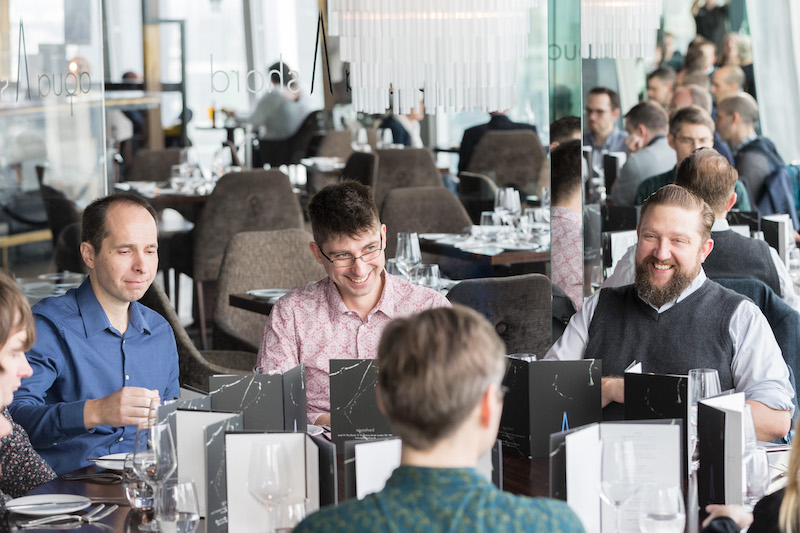 Hardware, Tools, and accessories
We don't skimp on the price of your kit - why hire someone on a decent salary, and then give them a baked potato of a computer to work on? Scale Factory consultants get a powerful laptop (Macbook, XPS, or Thinkpad), replaced every 3 years or when device performance or reliability starts getting in the way of your ability to work, whichever comes first.
We'll also provide you with budget for an external display, and the usual input devices. Since you'll be working remotely with customers and colleagues, and those first impressions count, we'll fund a good quality microphone, headphones, and a webcam. And because your physical wellbeing is important, we'll make sure you have an ergonomic workspace whether that's in your own home, or in the office.
We're Always Learning
You won't be expert at everything when you start at The Scale Factory, and that's ok.
Throughout the year you'll have the opportunity to take at least 10 Development Days for learning, personal development, and contribution to the company's public presence.
We say "at least" because to encourage building of your personal and professional reputation, for every blog post you publish, every public speaking engagement you deliver, and every certificate you attain, you'll get another Development Day added to your balance.
Your future consultancy colleagues have used this development time to study for and take AWS, Kubernetes, and Hashicorp certifications. Some have elected to become certified in compliance standards like PCI DSS. This isn't just for the consultancy team: everyone at The Scale Factory has access to learning opportunities to suit them.
We don't have a fixed per-person training budget: no reasonable request for training, learning materials, or conference attendance is refused, so long as you're happy to spend your Development Days budget on that activity.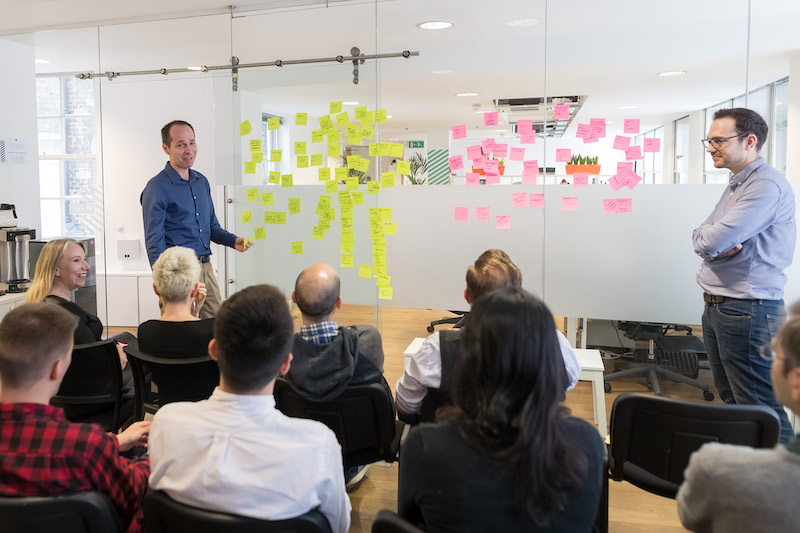 Benefits
You'll have 25 days holiday per year (plus bank holidays), and you'll start with 10 Development Days per year.
The benefit most Scale Factory consultants will tell you they find the most valuable is our flexible working policy, already discussed above.
Also discussed earlier, you'll get a powerful laptop computer, as well as all the accessories you need for a comfortable and ergonomic working environment.
We provide access to a BUPA Employee Assistance Program (EAP). Scale Factory colleagues, and their families (over 16 years old) can call a helpline number at any time of day to get emotional and practical advice and support on a range of topics.
Once you've passed your probation period, we provide a number of other benefits:
We provide (optional*) private health insurance through Vitality, which also delivers various rewards for staying active, focusing on mental health, and buying healthy foods.
We pay into a Nest Workplace Pension Scheme on your behalf, at a higher percentage rate than the statutory minimum.
We provide Aviva Group Life and (optional*) Critical Illness Insurance policies, to help provide some financial safety to you and your loved ones in case something goes wrong.
We'll review your salary annually, either in April or October, depending on your start date with us.
* Health and Critical Illness insurance are optional, as they're taxable in the UK
Benefits listed here are those we offer in the UK. In our other countries we provide local equivalents.